Are you looking for a simple way to send mass emails to potential clients or a list using GM
If you are using GMAIL or G-Suite for your email, then you will love this tip.
Using Google Spreadsheets, the "Yet Another Mail Merge" Add-on, and your gmail account you can easily achieve this. You will be limited to sending only 50 emails in a 24 hour period, which is perfect if you are still narrowing your headlines and copy.
When you are ready you can upgrade your plan with "Yet Another Mail Merge" to 1,500 emails per day for only $24/year.
Just remember, if you are using a free GMAIL email (anything ending in @gmail.com) then you are limited to only only 100 emails per day using scripts.
If you are using G-Suit however, you are allowed up to 1,500 emails per day using scripts.
The Quick How To
Open Google Spreadsheets.
Add the "Yet Another Mail Merge" Add-on, located under the "Add-Ons tab in Goggle Spreadsheets.
Fill out your Spreadsheet with at least these 3 columns: First Name, Email, Merge Status.
Add or Import your contacts into your Google Spreadsheet.
Go to your GMAIL page, compose a new email, and write the email you want to send to your contacts listed on your Google Spreadsheet. Make sure you add a subject title, and leave the recipient box blank.
Close the email by clicking the "x" in the upper right corner. This will make it a draft. Keep this draft.
Go to your Google Spreadsheet, got to Add-ons, Yet Another Mail Merge, Start Mail Merge, Start Merge
——–
The Detailed Guide
1.Create a Spreadsheet
Log into your Google Drive account. Create a new spreadsheet by clicking New > Google Sheets. You can import your contacts from an existing excel sheet or your can add them manually.
Next, go to the menu bar and select Add-ons > Get add-ons. This takes you to Google's Add-on store where you will type in Yet Another Mail Merge (YAMM) into the search box. YAMM is a public mail merge script that will do all the heavy lifting.
Click the Free button, and a window will open, asking for various permissions to access Google Sheets, Contacts, and Gmail. Click Accept. A window will pop up under Add-ons on the menu bar, indicating that the script has been installed. Click the X to close it.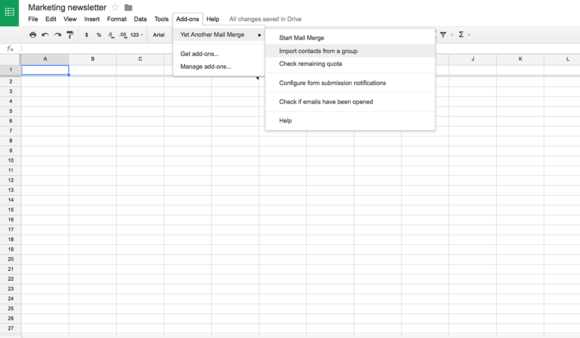 If you want to import your contacts from your existing GMAIL account into Google Spreadsheet simply Click Add-ons > Yet Another Mail Merge > Import contacts from a group. A small window will open with a drop-down menu of all the contact groups in your Gmail account.. Click Import contacts, and those contacts will populate your spreadsheet.
You can also copy + paste information from an existing list into the Google Sheet. Just be sure to add a column titled, "Merge Status"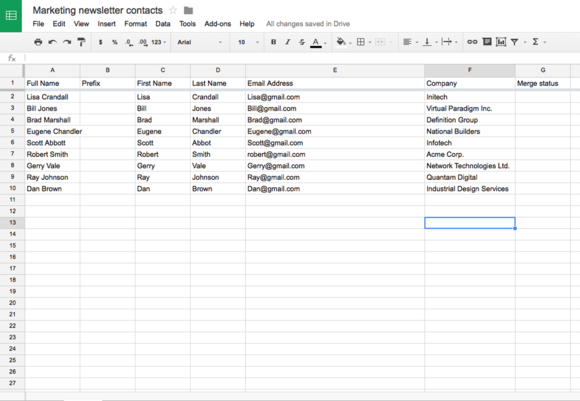 Go back to your spreadsheet and click Add-ons > Yet Another Mail Merge > Start Mail Merge. 
A window will pop-up. Select the title of your email message from the 'Drafts' drop-down menu. Be sure to check the 'Track Emails Opened' box to see which of your recipients opens the email.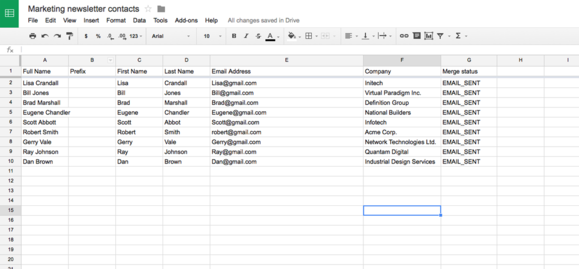 To make sure everything is formatting correctly, click 'Send me a test email' to receive a sample of your email. Make sure the formatting and style is they way you want it.
If everything looks right, start your first email blast!
If your email list is larger than 50 recipients, you can repeat this the next day, and YAMM will pick up right where it left off and skip the names that you have already sent emails to and start sending to the next name on the list. There is no need to adjust the spreadsheet once you've started unless you want to add names.