Skyrocket your conversions with Contactless Smart Tags
The simplest way to get in front of your customers & stay there.
What are Contactless Smart Tags?
Tap Into A World Of Endless Possibilities
Contactless Smart Tags allow your customers and users to interact with you, your products, and your business in the most efficient way possible.
Customers can simply tap their cell phones next to any of your smart tags and instantly begin interacting with your company.
Whether you are a restaurant owner opting to give guests digital menus, a real estate agent posting a digital flyer, or an artist wanting to give viewers additional exhibition content, our smart tags can easily and affordably lower barriers between you and your customers.
How do Contactless Smart Tags Work?
STEP 1
Go to Your Home Screen
To get started, simply unlock your phone and start on your home screen. Some phones may need to have a separate app to activate the smart tag.
STEP 2
Hover Your Phone Over The Tag
Once you phone has been unlocked and you're on your Homescreen, hold the phone less than 1″ above the smart tag.
STEP 3
Automatically Engage
Your phone will automatically engage the smart tag. Simple as that. No QR codes to size up, no awkward URLs to punch in, just a simply Tap & Go.
PREMIUM TAP & GO TECHNOLOGY
Made with our Tap & Go technology, our Contactless Smart Tags works with your users' smartphones to enhance and expand theirs experience beyond the physical world.
Integrate real world spaces with digital advances to create a multi-tier experience for your customers
Our One-Touch Push technology makes getting viewers to your sites easier than ever
Massively lower barriers to sales with a multi-tier service experience that your customers will love
What are the sizes of Contactless Smart Tags?
Contactless Smart Tags come in 2 standard sizes:
3 Inch (3 in x 3 in x 0.5 in)
The 3 inch standard tag is the perfect size for getting noticed without being overbearing or overly distracting. Perfect for indoor and outdoor use.
2 inch (2 in x 2 in x 0.5 in)
The 2 inch mini tag is sized to fit in small, but important spaces. Perfect for indoor uses such as concert and arena seating.
What Makes Contactless Smart Tags So Great?
Unlock Infinite Real Estate
Real estate and physical space is expensive. Whether you are acquiring billboard space or creating exhibition space, expanding your presence can really add up, but not with digital space. Smart  Tags cost far less and add nearly limitless digital space to help grow and advance production and sales efforts.
Your Products, Your Brand
Provide the pathway for your users to use your products and services under your brand, just the way you want it.
Accelerate Interactions
Getting in front of your audience is essential, but getting them to interact with you is the secret to success. We provide your customers and users the ability to reach you, and your content in the most efficient and comfortable way for your users.
Always On, Always Working
More simple than QR codes, short-codes, and tiny-URLs. Our tags allows your users to simply place their phones over our tags and start interacting with your content. Always on, always working.
Want To Have A Customized Tag?
Get The Exact Look And Feel Of Your Business
If you are looking for a more bespoke look for your Contactless Smart Tags we can help create it for you!
Get in touch with our design team for more details on how to personalize your tags.
A Tag For Every Occassion
LINK TO YOUR WEBSITE
Connect your digital media tags to the various sections of your website. Get customers to interact with your company using tags to deliver information that lead to sales.
DIRECT VISITORS
Have a large campus? Guide your visitors to their destinations seamlessly using smart tags.
INFORM CUSTOMERS
Need to give out information to your customers? Connect digital flyers, announcements, and other informative materials to the public without having to print and restock supplies.
EXPAND YOUR SERVICES
Create digital service options for your guests that expand your offerings by utilizing contactless technology. Use Contactless menus, online shopping, and one touch purchasing to enhance your customers experiences.
Download your guide to grow within your industry using contactless smart tags
Learn How Smart Tags Will Accelerate Your Efforts
Get your guide to how you can use Contactless Smart Tags in your business with our industry specific brochures.
Click the button below to find your resource brochure.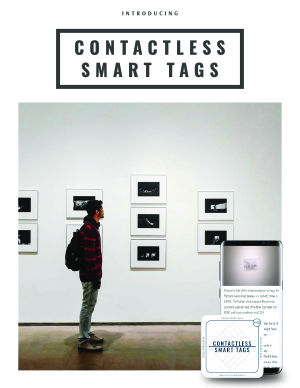 How Much Do Contactless Smart Tags Cost?
Contactless Smart Tags have no minimum or maximum limits on interactions, tap and interact with them as much or as little as you want.
Each Tag is secured with our Lock-Safe Security protocol securing your tags from digital theft and mischief.
Looking to purchase multiple tags? We offer bulk discounts to single orders of 5 or more.
Get monthly reports on how many people are using your tags and when.
You will never worry about keeping your tags up to date. Every month we automatically update your tags, keeping them digitally fresh month after month.
Need to change the function of your tag? No Problem! We can do that remotely!
Contactless Smart Tags
Multi-Use Tags
$10/Tag Monthly Subscription

Unlimited Interactions

Lock-Safe Security

Bulk Discount Available

Monthly Usage Reports

Monthly Maintenance

Re-Programmable
JOLA CAFE
Cafe / Restaurant
20k+ Users • 2k+ Purchases
Jola Cafe fully leaned into using contactless tags to give their customers a safe and reliable way to order their favorite items without having to increase their risk due to Covid-19.
To read more about the Jola Cafe experience and how they utilized contactless smart tags to further their business, click here.
Tap Into The World Around You
Get Contactless Smart Media Tags for your business by clicking the button below.